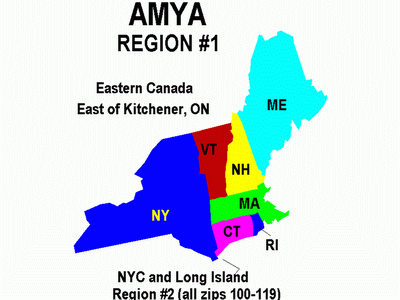 Region 1 Director
Name: Robert Hill
Address: 829 Division Road
City/St/Zip: Westport, MA 02790
Phone: 774 264-9202
Cell: 773 330-0986
Email Region 1 Director

Region 1 covers north-east of the United States and eastern Canada. Maine, New Hampshire, Vermont, Massachusetts, Connecticut, Rhode Island, New York (excluding New York City and Long Island) and the Province of Ontario east of Kitchener are members of Region 1.
Model Yachting is a very active in this region, as we have a long history in the hobby. The first known radio control of a model sailboat (worldwide) was accomplished by an MIT electronics graduate student.

The AMYA Marblehead class was developed and derived its name from that famous city in Massachusetts. Part of our history includes the introduction of the Soling One Meter to AMYA in 1993 and then the first ARF ("almost ready to float") class the CR-914, in 1994. Today the Soling One Meter is the most popular class in our region, but many other classes are sailed as well. I strongly suggest that you contact your nearest club and find out what classes they sail.

Be sure to check the Regatta Schedule page for more information.

There are numerous clubs spread through out the region. If you find that your area does not have a club, contact me and I will guide you through the process of starting a new club. It is not that hard!!.

The AMYA and its regional structure is here to serve you the model boat public. Please do not hesitate to contact me with any questions that you might have. Send me an invitation to a local event, and I will make every effort to attend.