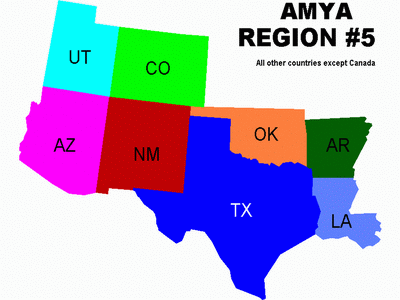 Region 5 Director
Name: Russell (Russ) Gardner
Address: 15412 Bended Knee Dr.
City/St/Zip: Austin, TX 78717
Phone: 512 922-6568
Cell: 512 922-6568
Email Region 5 Director

Region 5 Associate Director
Name: Mark Cooper
Address: 9423 Coast Bridge Street
City/St/Zip: Houston, TX 77075-5009
Phone: 281 413-1218

​Region 5 covers the southern portion of the United States, including eight states, and all other countries except Canada. See the AMYA Regional Directors pages or the AMYA By-Laws for other areas covered.
The eight US states are AR, AZ, CO, LA, NM, OK, TX, AND UT . There are currently clubs and sailors in all of the states except Arkansas. The clubs in the region sail several classes of yachts sanctioned by the American Model Yachting Association (AMYA) including EC12, Star 45, M, 36/600, Soling One Meter, RG 65, IOM, Seawind, Micro Magic, DragonFlight 95 and Victoria. In addition to these classes several clubs also welcome all types of other model boats.

The region is very active in the classes represented with several of the clubs hosting regional and association championship regattas on a regular basis. Sailors in the region were responsible for certifying two of the newest classes of yachts in AMYA.

Become a part of this exciting hobby; contact the club nearest you or contact me directly.