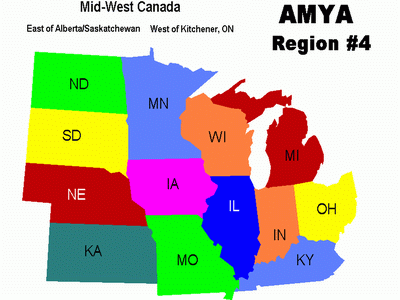 Region 4 Director
Name: James (Jim) Knorr
Address: 518 Maple Leaf Court
City/St/Zip: Manitowoc, WI 54220
Cell: 920 860-7743
Email Region 4 Director

Region 4
covers 13 States in the Midwestern United States, and Central Canada Provinces. See the map above for specific geographic areas covered. The
24 model yacht clubs
in our Region actively race, and many also have Members interested in scale modeling and building. Quite a few clubs do both!
Region 4 clubs sail classes of yachts sanctioned by the American Model Yachting Association (AMYA) in many configurations of
Kit-Based, ready-to-sail (RTS), almost ready-to-sail (ARTS), and Built From Plans boats
.
Any of our clubs will be pleased to show you how to become a part of this exciting hobby. Contact the club nearest you OR me directly to get help selecting a club near you, or in starting a new club within YOUR geographic area or area of interest!!